Certainly all professionals have tried to advertise their business in some way at least once, by themselves or with help. The more traditional ways of advertising are now a bit outdated without this, of course, meaning that they have ceased to work. But now the world is digital, and it makes sense that the ads go where the world is. In the digital world, there are several places and ways to advertise a product or service like on various search engines such as Google, Bing, Yahoo etc., social media such as Facebook, Instagram, Twitter, Pinterest etc., and even blogs with high traffic. In this article we will focus on the two giants, Facebook and Google; we will see what each platform does as well as their pros and cons in relation to the ads.
Google
The well-known Google is the master in the search engine world and millions of people use it every day to find something they are looking for. Google is divided into 2 major categories, Paid and Organic Search for which you can learn more in this article. So, a way of advertising on Google is Paid Search, that is, the first results we see when we search for something and have the word "Ad" next to them. But Google's platform (Google Adwords – PPC) also offers other advertising methods such as visual ads in blogs and websites, and even ads on YouTube. In this article, however, we will only focus on Paid Search and its target group.

Facebook
Facebook is the largest social network in the world with millions of users from around the globe. Facebook allows professionals, but also individuals, to advertise anything they want as long as it does not violate Facebook's Terms of Service. Ads appear in the news feed, messenger, sidebar, videos, and even Instagram as it belongs to the same company and uses the same Facebook ad platform.

Facebook VS Google Ads
Normally we should not even make this comparison since they are 2 completely different entities. But we have to say that even their ads have a totally different audience. Google is a search engine and aims to meet existing demand. That is, it is used by people who, with specific keywords, are looking for something very specific and are waiting to find exactly what they are looking for. If there is no demand, then it makes no sense for there to be results. That's why you'll see that not every single keyword has a corresponding ad. To see if there is a demand for specific keywords and the like, you should ask a trusted Digital Marketing company to get a detailed Keyword Research to see what keywords related to your business are in great demand and what's the competition.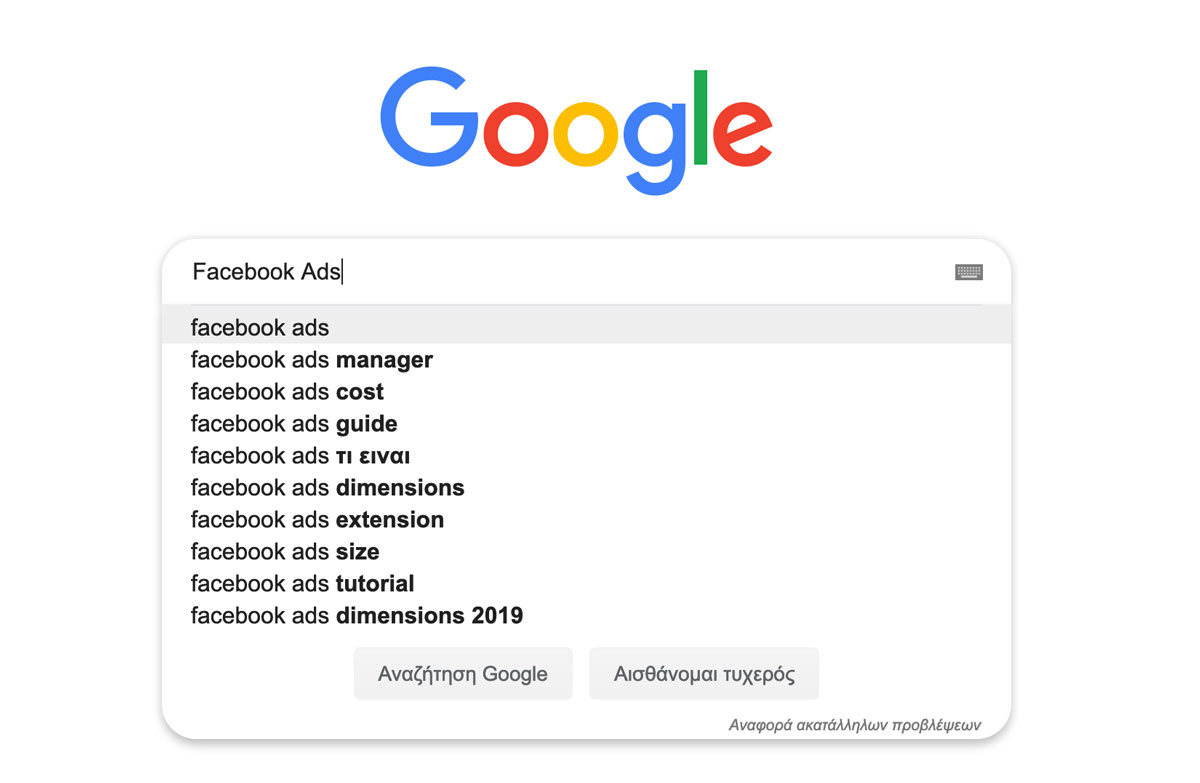 On the other hand, Facebook does not try to meet existing demand. Instead it has the potential to create demand. For example, someone who's watching TV on his sofa and at the same time takes a look at Facebook's news feed suddenly sees an advertisement for an interesting trip to Crete for 3 days and tells about it to his wife. Suddenly, where it had not even crossed their minds to go on an excursion, they are now on the excursion site reading the itinerary and are likely to make a reservation.
Conclusions
Taking everything into account, each online platform is not suitable for everyone and they do not work for all. For some businesses, Facebook ads bring amazing results and for others they do not work at all. The same applies to Google. There are many factors that play a role such as the market, the product or service, the target group and more. The best thing is to try both ways because that's the only way you'll be 100% sure if some way works for your business or not. There are businesses for which both ways work well but also businesses for which none of the 2 ways work and only organic marketing is fruitful. To try Facebook or Google ads to promote your business and be sure you're doing it right without wasting a lot of money unnecessarily, you can contact our experienced team at info@lithosdigital.com. We are recognized as a Top Website Design Company on DesignRush.